local resources
Holly Springs
Select another area
Holly Springs continues to grow rapidly while still maintaining a small town feel. Located just south of Cary and Apex and north of Fuquay-Varina, Holly Springs is just a short drive to Raleigh and the RTP area, making it a perfect place to call home. Residents and visitors alike are quickly set at ease in the charming town. Town-sponsored family activities are held almost every weekend from seasonal events like the annual Easter Egg Hunt, Happy Holly Days Parade in December or the HollyFest Celebration in October to free movies and concerts in the warmer months in a local park or downtown. The Town Hall, built in 2003 in the heart of Holly Springs, is a constant center of activity. Some of the cities favored accolades include "Sixth in N.C. in Affordability" by Smart Asset (2015), "2nd Safest City in North Carolina" by Safewise (2014), and "#1 Among Best Places in N.C. for Home Ownership" by NerdWallet (2014).
Holly Springs continues to have a strong and promising economic future. Recently opened projects include Holly Springs Town Center (2013) which include Target, Ulta, Dicks Sporting Goods, Marshalls, and more. Phase II will include Bed, Bath & Beyone, DSW, and Carmike Cinemas.  Main Street Square is a 40 acre mixed use project including townhouses, single family homes, apartments and 40,000 square feet of shops with office space above. The Western Wake Freeway, The Triangle Expressway (TriEx) is now complete between NC 540 at Research Triangle Park to Holly Springs. Commuting times to RTP have been reduced to just 15 minutes. . With preliminary plans for a Target store, movie theatre, bowling alley, hotel, and Novartis Global Ops headquarters, Holly Springs has a bright future ahead. Similar to many Wake County towns, Holly Springs is experiencing rapid growth, from about 1,000 residents in 1990 to over 26,000.
parks & recreation
Although the Holly Springs parks and recreation department is only about 10 years old, it offers a large assortment of programs. Formerly a tobacco farm, Womble Park presents 46 acres of soccer and baseball fields, a small fishing pond, picnic shelter, amphitheatre, paved walking trail, playground equipment and areas for horseshoes and volleyball. Bass Lake Park was a great addition in 2004 and features a fishing lake with opportunities to rent canoes, small boats and fishing gear. Local residents are drawn to the mulch walking trail, owl prowls, single-mingle canoe paddles and family moonlight canoe trips. A retreat center is also available for meetings and special events. Outside of the town limits, the 680 acre Harris Lake County Park offers hiking trails, 8.5 miles of mountain bike trails, a fishing pier, playground, picnic shelters and a disc-golf course. A boat ramp offers access to the lake which is well-liked by bass, crappie and catfish anglers.
The Holly Springs Cultural Center is the center for arts, entertainment and special events in southwestern Wake County. It is located downtown just a block away from Town Hall. The $5 million complex also includes the Holly Springs Library, a branch of the Wake County library system. The performing arts theatre, conference center, outdoor stage and grand lobby offer a friendly and welcoming place for the community to gather.
special events
Holly Springs hosts many special events for its residents. One of the highlights is the HollyFest celebration on the last Saturday in October which includes free children's rides, food, arts and crafts, a 5-K race, music and fireworks. The Kiwanis Club Haunted Schoolhouse is also held in October. The Town's community center is decorated by volunteers and offers plenty of Halloween scares. Young children can enjoy the event during the early evening hours for a friendly tour, free face painting and hayrides. Main Street Christmas is sponsored by the Holly Springs Chamber of Commerce and presents an opportunity for residents to visit Town Hall and decorate the Christmas tree, enjoy hayrides downtown and listen to local church carolers. Children get a chance to sit on Santa Claus' lap while Mrs. Claus reads stories and hands out cookies and milk. Residents enjoy the Happy Holly Days Parade in December where they enjoy local school marching bands and Town officials, as well as local youth gymnastic and martial arts groups.
holly springs history
As its name suggests, Holly Springs originated where strong, 40-foot holly trees overlooked freshwater springs. In the colonial years, a tiny community of homes and businesses formed around the initial "holly springs" in a region that was once a Tuscarora Indian hunting ground. The community included a cotton gin, store, a house used as a school and church and a sawmill. Downtown Holly Springs today is located where the crossroads of a road traveling from Hillsborough to Smithfield and another from Raleigh to the Cape Fear River met. Here is where Archibald Leslie opened a tailoring business and store as well as constructed a 180 acre estate that included freshwater springs. Today, the Leslie-Alford-Mims house and the springs remain, accessible by a short winding dirt road. It is a landmark for Holly Springs and is listed on the National Register of Historic Places.
The Civil War took many fighting age men from Holly Springs, forcing schools to shut down and progress of the community to slow to a standstill. The post-Civil War era in Holly Springs did not bring with it easy prosperity. The Chatham Railroad was built through the neighboring town of Apex, driving economic success down the road. Although the town's economy escalated in the early 1900s, World War I, the collapse of the Holly Springs Bank, the death of Colonel Alford who had caused much of the economic momentum in Holly Springs, and World War II left Holly Springs a ghost of the booming town it once was. Progress returned to Holly Springs in the 1960s with the addition of a public water system and streetlights. A sewer plant was added in the 80s, drawing Warp Technologies, a textile company to call Holly Springs home. Soon after, the Sunset Ridge Golf Community was constructed and stands as a strong cornerstone in the community today.
desire to learn more about homes in holly springs?
With all that this community offers, why not call Holly Springs home!  Take a few minutes to contact Linda Trevor & Co. with your questions and to begin finding your new home. We would love to partner with you!
as home selling experts in holly springs, we're here for you!
We understand all that is involved with selling a home and have the marketing plan in place to sell your home quickly at the best price.  Let's meet to discuss the current Value of Your Home and review your options. We would love the opportunity to serve you in listing your home!
Neighborhoods
$95,000 - $875,000
1,000 - 5,500 sq ft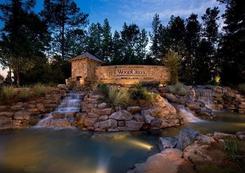 $325,000 - $575,000
2,500 - 4,350 sq ft